Competition high bar - FIG approved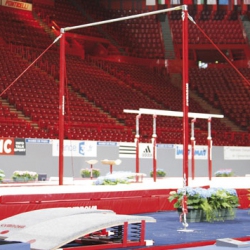 Company: Gymnova
Model: 3020
Category: Gymnastics equipment

Technicals Features:
Top level model with solid steel rotating heads. The two rotation axis are mechanically designed to give a perfectly jolt free "gimbals" effect.
Model for high level gymnastics with caps made of chrome steel, uprights ø 70 mm, quick and easy assemble and disassembly using fast tensioners.
Anti—slip pads, coated cable system.
Height adjustment from 2.70 to 2.85 m.