Changing room bench - wbx single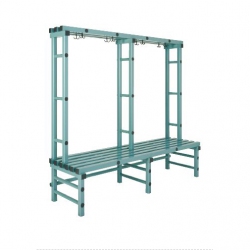 Made in: Netherlands
Model: wbx single
Category: equipment for locker rooms

Technicals Features:
The bench seats are comfortable, strong, sturdy and lightweight.
Single versions: depth 57 cm, space underneath 40 cm, sitting height 45 cm. Maximum length 80 cm and maximum length 250 cm. The top shelf is 30 cm deep and fitted with plastic clothing hooks.
Other measurements are optional.
- durable
- hygienic
- easy to maintain
- easy to use
- can be customised
- can be disassembled
- easy assemblage
- easy disassemblage
- wide area of applications