Catwalk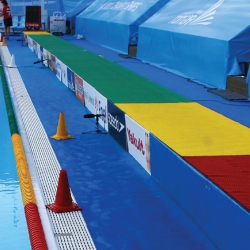 Company: Malmsten
Model: 12025
Category: Equipment for water polo

Technicals Features:
The Malmsten catwalk is a flexible system, easy to install and to put away after the competition.
The catwalk usually has the length of the field of play for water polo, and is, most often, made up from 16 sections, that are 2 meter long, 1 meter wide and 60 cm in height. It is an easy hook—on system.
There is a possibility for steps on the short sides of the catwalk (2 x 0,5 meter steps of 20 and 40 cm).
For major championships, in water polo, there is a 30—meter long catwalk long side the play of field on both sides of the pool, and the catwalk has the colour markings of the play of field.