Bio Meter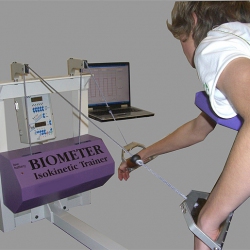 Made in: Germany
Model: Bio Meter
Category: Simulators for swimmers

Technicals Features:
Since many years established instrument for perfomance diagnosis and special training.
The integrated force sensor finds out basic data for very detailed analysis and en electronic controlled resistace until generates the unique isonetik force progression.
The plotting unit shows alternatively force, work, powre, frequency or extension length.
The inegrated memory can be read out with aprinter after the exercise unit and shows the swimmer directly the result of his practise and his standard of perfomance.
Force progression can be shown, stored and compared online on the computer with the optional Swim analyzer Software.