Basketball unit Mobile 704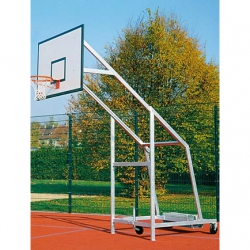 Company: Haspo
Model: 704
Category: Equipment for basketball

Technicals Features:
Total overhang 1650 mm, incl. all necessary accessories, glassfibre
back boards with baskets coloured orange and nets
coloured white, safety hoops for counterweights, but without
counterweights.
Three rollers are fitted to each unit. The unit stands on two rear
support rollers and two front feet. The height of the front jockey
roller can be adjusted as required.
Counterweights are necessary, i. e. totally 8 weights
1 × 0.25 × 0.05 m with 25 kg each. An appropriate holder is
built in for this purpose. To prevent the counterweights from
being stolen, safety hoops are provided.
Glas—fibre back boards – measuring 180 × 105 cm – absolutely
weatherproof, scratch— and impact—resitant finish.
Standard equipment: Natural bright aluminium finish.