Adjustable elasticity springboard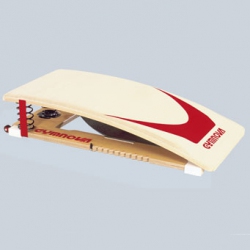 Company: Gymnova
Model: 2195
Category: Gymnastics equipment

Technicals Features:
Height : 23 cm. Weight : 30 kg.
Board with carpet covering of 1.5 cm thickness. Anti—slip pads and transport wheels.
The dynamism is provided by three metal springs and an adjustable fibreglass leaf. The easy and simple adjustment allows adaptation for all sizes of gymnasts and for all levels.
Springboard developed especially for light builds, especially artistic gymnasts.