Acoustic start device StartTime III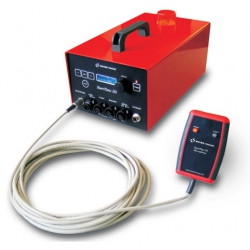 Manufacturer: Swiss Timing
Model: StartTime III
Category: Refereeing and timing systems for different races

Specifications:
Dimensions (main unit) : 376 x 215 x 195 mm (w/o connectors)
Dimensions (microphone) : 118 x 25 x 80 mm
Weight : 6.4 kg (without charger & mike)
Microphone cable length : 7 m
Connections : microphone, ARES, flash, speaker,
battery charger
Power supply : integrated 12V/7Ah lead—acid battery
Charger : included, indoor use only
Public adress speaker : up to 2 x 19 W output
Self—discharge time : 12 months if not in use
Battery indicator : 4 levels battery symbol
Battery autonomy : more than 1000 starts before recharge
Operating temperature : —10 to +65°C
Storage temperature : —20 to +65°C
Relative humidity : 20—80% (non—condensing)
This is the 3rd generation of STARTTIME, featuring a multifunction
LCD display and keypad for selection of the
various setup possibilities.
The compact design of STARTTIME III houses the public
address loudspeaker and the optical flash. STARTTIME
III should be positioned where the athletes can see the
flash. An additional external flash or chain of flashes can
be connected to the unit, and positioned where it is most
required.
A chain of loudspeakers can be connected, to deliver the
start signal as close as possible to each athlete, so that
they all hear the start simultaneously.
The microphone unit enables the starter to give the start
signal and also amplifies verbal commands. The relative
volumes of the spoken command and the start signal are
controlled individually by menu commands, as well as all
controls and parameters.