ACCESSORY BOX - EBX OH2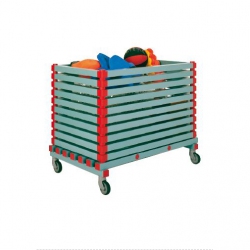 Made in: Netherlands
Model: EBX OH2
Category: Storage systems for swimming pools

Technicals Features:
Accessory boxes are ideal to quickly and effectively tidy up balls, and materials for teaching, swimming and other sports. They are available in various different versions and can be made to measure.
The EBx OH2 has a 2 cm opening between the profiles and has 4 plastic castors, of which 2 have a break. Meas. 120x70x94 cm (LxDxH).
A shutter lid is optional.